Itinerary:
Please, be ready at your hotel lobby at 19h.30 for a short transfer to Hanoi railways station for taking the overnight train (first class 4 beds cabin with air-condition) which arrive in Lao Cai city, near the Chinese border next morning.
Day 1 : Laocai -Sapa -Catcat village - Laochai - Tavan Village (B,L,D) 6 hours trekking 17 km, 3 villages.( Overnight at Tavan village )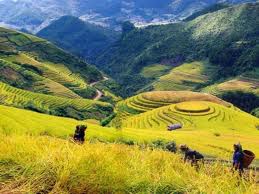 Picked up at Laocai Station early in the morning by our bus. Arrive at Sapa round 8:00 AM; Breakfast. Start at 11:00 AM by jeep to the first village of the black H'mong (Catcat), walk around visiting people in the village and the hydroelectric power station built by the French in the old days. Take the paths along the valleys between mountains to get to Laochai village. Enjoy the overall pictures of the villages among terraces. Visit the H'mong living in wooden and bamboo houses. Continue going to Tavan village to visit the Dzay minority. Stay the night in Tavan village at a Dzay family. Picnic lunch on the way and dinner at the home-stay.

Day 2 : TaVan -GiangTaChai - Sapa town( 5 hours trekking, 12 km, 2 villages.)(B,L)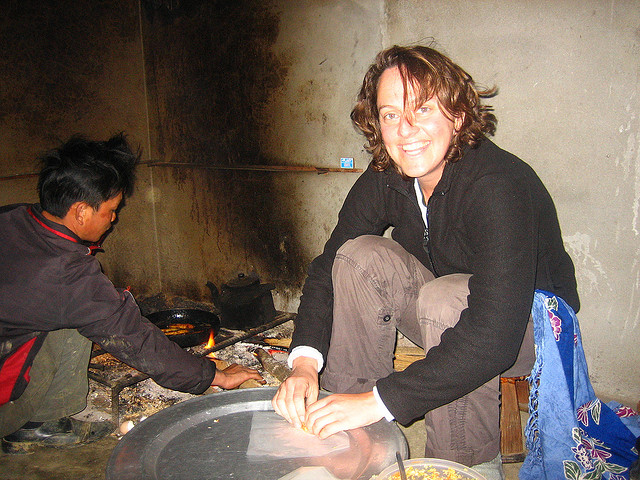 Get up early in the morning to enjoy the daily life of the ethnic minorities in the village. Breakfast; take the road to GiangTaChai village of the Red Dzao minority via the paths between terraces and through bamboo forests. Visit silver waterfall and suspension Rattan Bridge, visit the people in the village and then cross MuongHoa River up to the mountain to visit the last village of the trek - Supan village of the H'mong. Get back to Sapa by jeep. Check in Hotel in Sapa and Free time for shopping in Sapa market .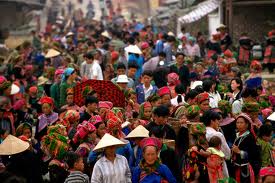 Day 3 : Sapa - Bac Ha Market - Lao Cai Station

6h00' AM: Take a tour bus going to Bac Ha, after 3 hours on the bus you will arrive BacHa market. free visit market ( BacHa market open on sunday morning only). 12h00' short treckk to visit BacHa village. 3pm take the bus going back to railway station for a night train Back to Hanoi depart at 6pm.




Price : 210 USD/person /Group 6 to 10 people -


Tour includes:
- Train tickets 2 ways (soft sleepers, aircondition cabin 04 berth - Dong Viet Express Train )
- Tranport by bus Laocai - Sapa, Sapa - Laocai.
- Accomodation at local people house
- Night at 2 star hotel in Sapa
- All meals as dedicated itineary
- Permission fees to sleep in village
- Entrance fees to the villages.
- English speaking guide.
- Jeep go and back as timetable. (Motorbike for group of 1 person)
Excludes:
Insurance,
Drinks, Phone calls and other private expenses
Hanoi Vietnam 1day Excursion

Hanoi Street Food 15 $


Hanoi City Tours
Hoa Lu - Tam Coc
Perfume Pagoda Trip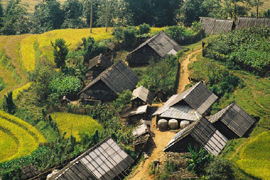 Sapa Vietnam - Located in North-West Vietnam , Sapa is the most attractive mountain place must be visited on any northern Vietnam itinerary. On a clear day you will treated to views of steeply terraced rice fields, towering verdant ridgelines, primitive mud-thatched villages, raging rivers and astounding waterfalls.
Nestled high in the Tonkinese Alps near the Chinese border, Sape was built as a hill station during French colonial days, to serve as a respite from stifling Hanoi summers. These days, weekends are still the biggest draw in this crumbling hill-tribe center. Visitors from the capital flock to Sapa for a glimpse of the famed "Love Market," a trek to local hill tribe villages, or an ascent of Vietnam's highest peak, Fan Si Pan.
Some eight ethnic groups inhabit Lao Cai province: Hmong, Dao, White Thai, Giay, Tay, Muong, Hao and Xa Pho. The most prominent in town are the Red Dao, easily identified by the coin-dangling red headdresses and intricately embroidered waistcoats worn by the women, and the Hmong, distinguished by their somewhat less elaborately embroidered royal blue attire. Groups of ethnic Hmong youngsters and women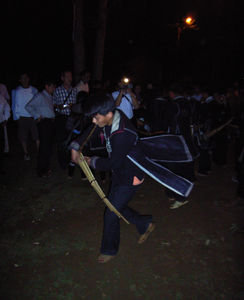 can be seen hauling impossibly heavy, awkward baskets of wood, stakes, bamboo, bricks, mud and produce. Deep in the valleys surrounding Sapa, the Muong Hoa River sluices a wild, jagged course among Giay, Red Dao and White Thai settlements, their tiny dwellings poking out of the neon rice fields like diamonds on a putting green. One- to four-day treks are offered by a handful of outfitters. Guests sleep in tents or in the homes of villagers, their gear hauled by Hmong porters. Be warned: Despite what the local innkeepers will tell you, both the Hmong and the Dao really do not enjoy having their photographs taken unless they're paid for it. It's a certainty that any brochure you see of smiling, care-free ethnic hill people was shot under a Screen Actors Guild contract.
Sapa Love Market
Sa pa is famed for its "Love Market" – sort of a cross between a peacock mating ritual, a Middle Eastern arms bazaar, an Amish square dance, a bad Pavarotti concert and Bangkok's Patpong (except here the people wear clothes). On Saturday nights, Red Dao hill tribe youths of both sexes congregate in a weekly courting rite, singing tribal versions of Loretta Lynn love songs to woo the opposite sex. The songs are highly personalized and boast of the composer's physical attributes, domestic abilities and strong work ethic. While Dao women are indeed highly industrious, the men, it seems, prefer to spend most of their time drinking, smoking opium or sleeping, only occasionally slapping the rump of a lethargic bovine moving more slowly than they are. Few of their songs, though, are about drinking, smoking opium, sleeping or slapping rumps