Warmly Welcome to WWW.SAPAHOMESTAYTOURS.COM
SAPA HILL TRIBE TREK & HOMESTAY TOUR
Tour Code : SHT 03
3 Days/4nights - Daily Departure from Hanoi or Sapa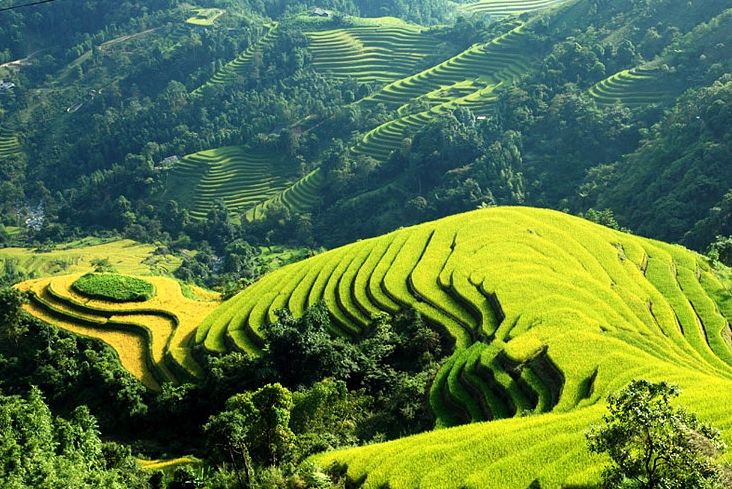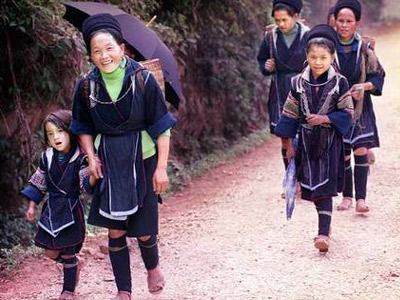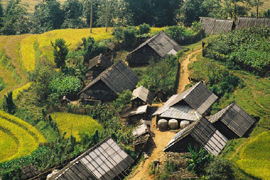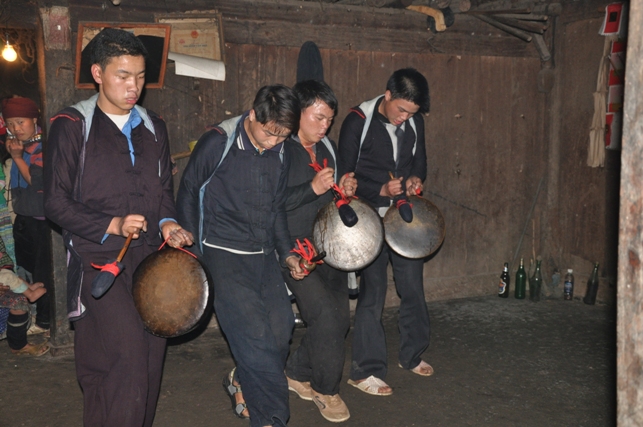 Itinerary:
Please, be ready at your hotel lobby at 19h.30 for a short transfer to Hanoi railways station for taking the overnight train (first class 4 beds cabin with air-condition) which arrive in Lao Cai city, near the Chinese border next morning.
Day 1: Sapa - Ban Ho - Sin Chai (-L, D)
Pick up from Lao Cai station and transfer to Sapa for breakfast ,after breakfast local guide and driver then transferred to Su Pan. The trek starts by walking through the incredibly scenic "Ban Ho" valley. Here you will have the opportunity to visit and explore the wooden houses, which traditionally belong to the Tay ethnic minority. You will then continue to walk to Thanh Phu village where you stop for lunch in a local house. After lunchtime, you head to Sin Chai village of Red Dzao minority where the night will be spent in the Red Dzao Village.
Approx: 1-hour driving/ 5 hours walking/ 1-hour lunch.
Day 2: Sin Chai - Nam Nhiu - Nam Than - Thanh Phu (B, L, D)
Today's trek takes you through several villages where you will be able to meet Tay, Hmong and Xa Pho ethnic minorities. You will have time to photograph the beautiful rice paddy terraces and the surrounding mountain. On the way you will visit a local school. Your lunch will be prepared and served in a local house. In the afternoon, you head back to Thanh Phu village of Tay minority. Here you will spend the night. You can take a walk to explore local daily life while your dinner will be served with Vietnamese dishes.
Approx: 4 hours walking/ 1-hour lunch
Day 3: Thanh Phu - My Son - Nam Toong - Sapa (B, L, -)
On the last day of the trek you will cross several suspension bridges and trek through lush rice paddy fields and stunning scenery. You have a unique opportunity to meet Xa Pho minority in My Son village, one of the smallest group ethnic living in Northern Viet Nam. They always maintain their unique costume and nomadic life. You trek uphill to Nam Toong village of Red Dzao minority, where you have lunch in a local school. In the afternoon, your trek will be firstly downhill to Ban Ho village where you will have time for a swim in the river. The car will meet you there and return you to Sapa. 16h30 Transfer to station for overnight train back Hanoi .Arrive around 5h30 AM .The end of great trip !
Approx: 1-hour driving/ 4 hours walking/ 1 hour lunch.
Price :
| Group Size | 01pax | 02pax | 03pax | 04pax | 05pax |
| --- | --- | --- | --- | --- | --- |
| Cost in US$ | 550 | 350 | 330 | 295 | 280 |
What's Included in the Tour Cost :
English or French speaking guide (Surchage for French speaking guide $.10/day)
Round Trip Train Tickets from Hanoi ( Deluxe Soft Sleeper 4Berth Cabin - 2berth Cabin requested and pay extra )
Black Hmong porters (to carry food and luggage)
Cook (from group sizes of 6 pax)
All needed transport
All indicated meals, plus snacks (B as breakfast; L as lunch; D as dinner)
Water on the whole trip
Sleeping bag and mattresses
Waterproof bluebag for luggage
Tents if needed
Mosquito net
All entrance fees and permit
Overnight in local house or tent
What's Not Included in the Tour Cost :
Personal Pocket Money
Soft drink (beer, coca cola…)
Insurance
All other services not indicated above
What to bring :
Sun Block
Wide brim hat
Camera + Film
Comfortable shoes
Rain gear
Warm clothes
Insect Repellent
Original Passport
Booking now
Sapa Vietnam
-- Located in North-West Vietnam , Sapa is the most attractive mountain place must be visited on any northern Vietnam itinerary. On a clear day you will treated to views of steeply terraced rice fields, towering verdant ridgelines, primitive mud-thatched villages, raging rivers and astounding waterfalls. Nestled high in the Tonkinese Alps near the Chinese border, Sape was built as a hill station during French colonial days, to serve as a respite from stifling Hanoi summers. These days, weekends are still the biggest draw in this crumbling hill-tribe center. Visitors from the capital flock to Sapa for a glimpse of the famed "Love Market," a trek to local hill tribe villages, or an ascent of Vietnam's highest peak, Fan Si Pan. Some eight ethnic groups inhabit Lao Cai province: Hmong, Dao, White Thai, Giay, Tay, Muong, Hao and Xa Pho. The most prominent in town are the Red Dao, easily identified by the coin-dangling red headdresses and intricately embroidered waistcoats worn by the women, and the Hmong, distinguished by their somewhat less elaborately embroidered royal blue attire.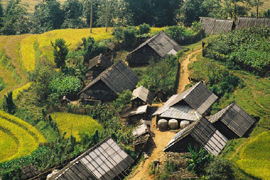 Groups of ethnic Hmong youngsters and women can be seen hauling impossibly heavy, awkward baskets of wood, stakes, bamboo, bricks, mud and produce. Deep in the valleys surrounding Sapa, the Muong Hoa River sluices a wild, jagged course among Giay, Red Dao and White Thai settlements, their tiny dwellings poking out of the neon rice fields like diamonds on a putting green. One- to four-day treks are offered by a handful of outfitters. Guests sleep in tents or in the homes of villagers, their gear hauled by Hmong porters. Be warned: Despite what the local innkeepers will tell you, both the Hmong and the Dao really do not enjoy having their photographs taken unless they're paid for it. It's a certainty that any brochure you see of smiling, care-free ethnic hill people was shot under a Screen Actors Guild contract.
Sprawling near the banks of a river, Can Cau Market is a clearly defined shantytown, packed with crude stalls covered with thatched roofs. The start of a few simple settlements can be seen high above, many of whose residents now make their weekly pilgrimage to the market. We are only 9kms from the Chinese border and some traders make the journey across from China on horseback. Unfortunately foreigners are not allowed to reciprocate this set-up, however tempting it may seem. By 9 am, the market is crammed to capacity. It's lively and surprisingly fun. The locals are mostly of the Flower Hmong minority group. You can't miss them -their traditional costume of green checked headdress and multi-colored, meticiculosly stitched and layered garments are simply stunning. Few foreigners make it to Can Cau; those that do brave the journey come either with a small tour group in four-wheel drives, or - if half-mad and on a tight budget like me -on the back of a motorbike.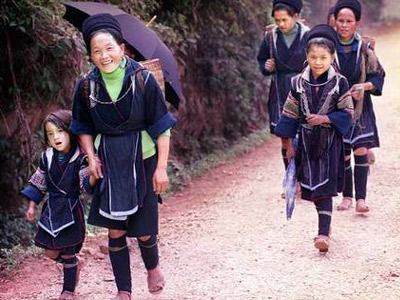 The handful of Westerners here this morning are the object of intense - though friendly- scrutiny. There is much laughter as we try to make basic conversation. Although the majority are painfully shy and not accustomed to seeing foreigners, some cheerfully allow photographs to be taken.
Can Cau Market is predominately a livestock market and not the sort of place to buy some choice gifts for the folks back home. Beyond the fenced-in perimeter, pot-bellied pigs, chickens and water buffalo wait patiently by the river to be sold. They rub shoulders with magnificent wild horses, some of whom will be transporting their masters back over to China. But the market also sells the basics: traditional clothing, sacks of rice, bundles of coarse, raw wool and ironware. Some stalls sell fresh tobacco and a rather sad array of root vegetables. Many women sell their wares from large, wicker baskets and sit weaving whilst waiting for a sale. I note that there are many giant plastic